Residential Roofing
Roof removal and replacement is one of the most important decisions you'll make about your house. Your roof protects your house, family and all your valuables from the forces of nature. Making sure you have the best roofing company in San Jose do the work for you will guarantee that your biggest investment is safe for years to come.
There are several steps to the process. The first is picking a quality, trusted roofing company like Clean Roofing. We will make sure you know all of your choices for roof replacement. Second is choosing the right roof for your house. From the roofing shingles on top to the underlayment beneath, each choice is important to ensure a quality installation. The final step is signing a thorough contract with your chosen roofing company.
When the jobs starts, you can expect Clean Roofing to be on time, neat and clean and respectful of your house and family. The first step we will take is to secure the space surrounding the roof. We want to make sure that your property is protected from damage during the roofing process. The next step is to have your old roof removed. This is a demanding process that results in a clean structure to put your new roofing system. There will be some banging and dust flying, but Clean Roofing's trust-worthy staff will make sure your property remains neat and clean.
Then the real fun begins. Our team will make sure your roof trusses are in good condition before they lay down the decking, insulation (if needed), an ice and water barrier to protect everything from the elements, felt underlayment and then the roofing shingles. Choosing the right roofing shingles will make your house look great in your neighborhood and Clean Roofing's friendly sales staff can help you make the decisions that are right for you.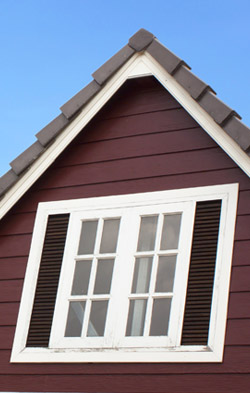 Commercial Reroofing and Maintenance
Roof Repair
Damage and wear and tear happen to every roof as it ages, so regular inspections are an important part of your house maintenance. If your roof happens to have damage, Clean Roofing can save you money by making the needed repairs and extending the life of your roof.
Some signs that your roof may need to be repaired: Missing tiles or shingles, curling shingles, water marks on your ceiling, dark lines or streaks from algae or mold and cracked shingles or tiles. Don't wait until it rains to get a quality roof repair from Clean Roofing. Repairing the damage now will prevent it from spreading in the future.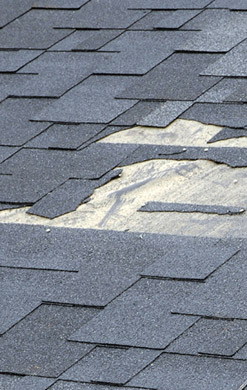 New Roof Financing
Clean Roofing offers competitive financing through CalFirst and PACE financing. In addition to $0 down financing for your new roof, you can finance other energy and water saving projects for your home.
Gutters
Gutters and downspouts play an essential role in proper drainage of rainwater. Without gutters, you are risking potential rotting of siding, windows and foundation seepage. We install heavy gauge 6 inch seamless aluminum gutters with 3×4 downspouts, the largest system for residential homes. Our gutters are hung with hidden hangers, which give you a much cleaner look than a spike driven installation. We provide a variety of colors to accommodate the color scheme of your home. Your gutters must be kept clean at all times! Clogged gutters can result in water backing up causing roof leakage and soffit and fascia damage. We offer a variety of gutter guard systems, from screening to "helmet style" guards. Gutter guards help keep your gutters clean and prevent downspouts from clogging, potentially saving you thousands of dollars in home repair. Just ask a Clean Roofing associate what would best fit your needs.