Roof Repair or Replacement
Clean Roofing offers home and business owners both re-roofing services and roof repairs when they are warranted.  We are not going to push a client into a re-roof project when it is not required, and we will not offer to repair a roof that is beyond repair.  When we inspect your roof, we will evaluate your roof and give you an honest evaluation.  We will always offer the best and most cost-effective solution.
We are committed to offering the best services available in the roofing industry in the Bay Area.  We will always recommend the solution that best fits your need, whether is a repair or a full replacement.
Most professional residential and commercial roofing jobs should last from 25 – 30 years. Some materials might even last longer than that! When we get a call to give an estimate for a new roof, the job often does not require a complete replacement. There are many times a repair is all that is required.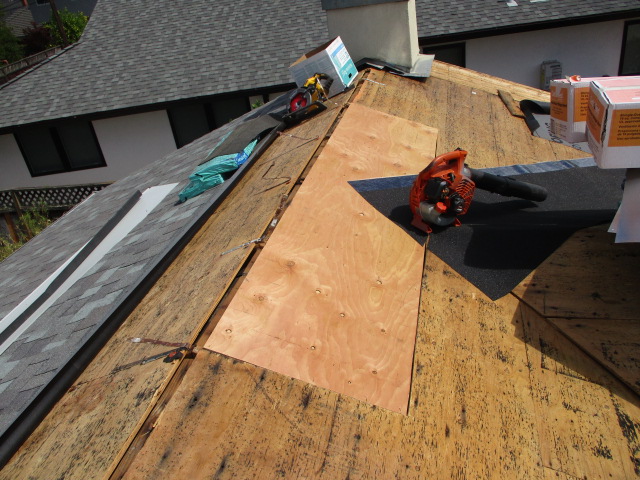 When a professional contractor puts a roof on a residential or commercial building, the roof should last up to 30 years. That does not mean you will not have issues along the way. Improper nailing can lead to lost shingles, tiles, or flashing. Wind and other inclement weather can result in lost shingles or tiles. A roof requires proper ventilation to avoid issues of moisture.
When we come to your home or business, we will do a full inspection of the roof to see what services are needed. If the roof is less than 25 years old, chances are you will be able to repair the problem without replacing the whole roof. Repairing your roof instead of replacing can save you thousands of dollars!
If your roof is 25 years old or more, then you will probably need to replace it. A roof that is approaching or is beyond its useful life can be more expensive to repair, and chances are, the roof will need multiple and extensive repairs.
Replacing a roof when the time is right can save hundreds, if not thousands of dollars in repairs.
Honesty and Integrity are Vital Aspects of Clean Roofing
Honesty and integrity are vital aspects of the Clean Roofing culture. Our free roof analysis will find all the current and potential problems with your roof. We will recommend whether your best move is a repair or a replacement.
We are one of the Bay Area's leading roofing contractors. Clean Roofing holds several of the roofing industry's leading and most respected certifications, GAF Master Elite™, GAF Certified Green Roofer™, OwensCorning Preferred Roofing Contractor™, and CertainTeed Master Shingle Applicator™.
Committed to Excellence
We are committed to excellence, and we never attempt to sell a product or service that is not needed.
When we recommend a repair or replacement for your residential or commercial roof, you know that you are getting the proposal that is the most efficient use of your time and money.
Call Clean Roofing and let us come to you for a free onsite roof analysis.