In June 2018, we offered a free consultation to a customer in Saratoga, California whose main concern was that their roof was leaking and cracking. Using this as a typical job example, the steps towards fixing their problem and preventing any further damage are as follows.
First, we met with the customers and took a look at the property. It is absolutely necessary to meet in person when performing this evaluation, as it gives us a chance to connect with the client, find out their expectations, seriously evaluate the damage, and discuss solutions. It was determined that because of wear and contained termite damage, the damaged pieces would have to be removed, and the tiles replaced.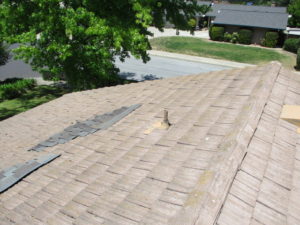 There is usually more than one option when debating which products to use when replacing roofing. In this case, we offered the client a choice between concrete tile and asphalt shingles. Concrete tiles offer a variety of styles for roofing and can ultimately save the homeowner money because they can be more durable (lasting upwards of 50 years)and energy efficient. Asphalt shingles, by comparison, are cheaper at the outset, less brittle to walk on if repair work is needed, wind resistant and easily repairable. Ultimately, asphalt shingles were chosen due to affordability and lower overall maintenance costs.
Once that major decision was made, our team broke down a plan to increase energy efficiency and prevent long term damage from wear going forward.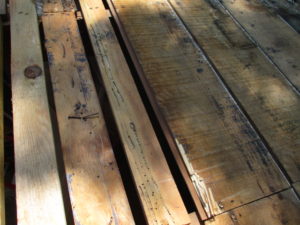 After the ruined wood was removed, blown in insulation was applied to the attic before the new roofing installed. Blown-in Insulation is an excellent alternative to the conventional batt and roll insulation, and there are many benefits to using it. Because of its ability to mold and fit into any size and/or configuration, it can reach areas that are hard to or impossible to access with batt and roll. This keeps heat from escaping, increasing energy efficiency. It also prevents moisture from seeping in and pests from invading, of particular concern when preserving the structural integrity of a roof.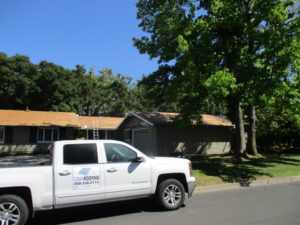 As heating retention is addressed with insulation, so too must ventilation be considered to allow cold air to enter the attic. This combination is the key to ensuring a home that is durable AND energy efficient. By permitting a natural flow of outdoor air to ventilate the attic, we increased the air flow and let the super-heated air out. This protects the roofing material, removes unwanted moisture, and allows the insulation to resist heat transfer into the house.
The shingles were then installed, gutters replaced. The addition of gutter screens is just one more thing we advised the client to install in order to extend the life of their brand now roof. Gutters can accumulate all manner of environment gunk, and cleaning them out is a messy, smelly job that can take a huge amount of time and effort. Adding gutter guards to your gutters will cut down on the amount of the trapped debris left to deal with when the time comes, allowing them to continue functioning properly for a much longer duration.
At the end of the project, the team cleared away the damaged roofing materials and recycled the old roofing tiles. Clean Roofing places a high value on providing an extraordinary customer service experience in addition to top of the line products. We consider being chosen to work on someone's home an extreme privilege, bestowed on a trusted few.